What to Consider When Choosing Between a Dental Bridge or Implant

When it comes to replacing a missing tooth, two of the most popular options are a dental bridge and dental implant. Each has its own advantages and drawbacks, so it pays to do your research and decide which is best for you. In this article, we'll examine the differences between a dental bridge versus an implant in terms of cost, health benefits, longevity, and more.
Cost: Comparing the Prices of Bridges and Implants
Cost is a major consideration when it comes to replacing a missing tooth, and bridges and implants have their own advantages and drawbacks in terms of pricing. Generally speaking, dental bridges tend to be less expensive, as they are not surgically placed. On the other hand, an implant can cost more than a bridge but will often last longer over time. The cost of each may also depend on the types of materials used and the complexity of your case.
Benefits: Advantages of Each Option
Both dental bridges and implants provide great benefits. Dental bridges are more affordable and involve less of a time commitment than an implant, as they can often be placed in two dental visits. In addition, they provide natural stimulation which helps to prevent shifting of the teeth. Implants have the advantage of being permanent, as long as they are taken care of properly, making it a longer-term solution to replacing missing teeth. This is especially attractive with patients who do not want to or cannot replace the bridge again after 15 years. Even with higher up-front costs, the long-term savings may make this option the most cost-effective solution for some people.
For a dental bridge the dentist shaves down the adjacent teeth near the missing tooth and reshapes them to support the new tooth in the gap as shown in the video.
A dental implant is an artificial root to support the crown. This treatment consists of two phases. At first phase the dental surgeon will apply the implant and close up. After 3 to 6 months of healing time dentist will apply the crown on top of the implant. Dental crown is actually the tooth we see. Implants are deep in your jaws therefore not visible. Implant treatments are more expensive but the biggest advantage is that the dentist doesn't have to shave down any adjacent teeth.
Completion Times: How Long Does it Take?
Dental bridges can usually be finished and placed in two visits to the dentist within a week. Implant placement is a much more involved process that often requires several visits and up to 3 to 6 months of healing time until your restoration is completed. During the implant procedure, it may take several months to heal completely before your permanent prosthesis is installed. Depending on your individual situation and desires, this timeline should factor into your decision-making when deciding between dental bridges vs implants.
Replacement timeline: How Long Before it Needs Replacing?
Generally, dental bridges can last 5 to 15 years with good oral hygiene, regular professional teeth cleanings and check-up appointments. Dental implants are permanent solutions that can last for an entire lifetime when kept in good condition, with no damage or decay. However, dental implants need to be checked up on annually in order to ensure they're functioning properly and to detect any potential problems early on.
Appearance/Feel: The Natural Look & Feel of Different Solutions
Dental bridges offer a realistic, natural look and feel when properly fitted and maintained. They cover the gap between teeth with a false tooth, which can often be difficult to distinguish from real teeth. On the other hand, implants are made of porcelain or titanium material that is designed to look and feel like natural teeth. Both solutions give you an aesthetically pleasing smile!
I have multiple missing teeth am i eligible for a dental bridge?
If you have a several missing teeth on the same jaw which results in a big gap. It is possible to make a dental bridge dental implants. You don't need a seperate implant for every missing tooth. For patients with multiple missing teeth and high expectations a hollywood smile make over can be the answer. Or if the concern is affordability and function all on 4 system might the the right choice.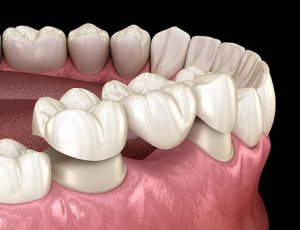 Find our more about dental implants on FDA and dental bridges on Cleveland Clinic.
Do you have further questions about how to choose between implants and bridges? You can contact us 24/7 for a free online consultation about getting your treatment done with us and possible treatment options for you!