Hair Restoration in Turkey
Hair restoration in Turkey offers a world-class solution for individuals seeking to combat hair loss and regain a full head of hair. Renowned for its skilled surgeons, advanced techniques, and affordable prices, Turkey has become a leading destination for hair restoration procedures. So you have been reading about hair transplants and wanted to get one for some time now but the costs are mind blowing in your country ? Why not get a hair transplant done like a Hollywood star but for a decent price? You came to the right place. Every year there are more and more patients visiting Turkey for their needs. Getting a hair restoration in Turkey might be what you need.
Hair Transplant in Turkey has become vastly popular. There are thousands of patients who decide to get hair transplant in Turkey and the number of patients are increasing. With our years of experience in medical tourism we are at your service. Success rate if very high and the country has decades of experience with medical tourism. Hair transplant surgery in the UK costs around 10.000 – 12.000 £ due to high labor costs where as same procedure costs around 800 to 4.000 £ in Turkey. Even wiith the money you will spend in Turkey for sightseeing, entertainment It costs only the friction of the full price in Europe or the States. Around 5.000 Patients from all over the world take advantage of the treatment packages and travel to Istanbul to get their hair transplant done in Turkey.
If you have ever been to Istanbul before you might have noticed many people from all over the world walking around with bandages on their heads. This is not a surprising sight for Istanbul. Turkey's medical tourism has been peaking for sometime now. Medical has support from the government and it has its perks. Especially when it comes to Hair Restoration in Turkey, Istanbul is the first destination for many foreign and domestic patients.
Why choose us ?
At our partner clinics we use the latest hair transplant method Follicular Hair Transplantation (FUE) for our patients. This method is more time consuming and a lot of effort go into it but results are simply stunning. Due to its labor extensive nature this method usually costs thosands of dollars or euros. However FUE costs only friction of the price in Turkey. We work with the best clinics depending on our patients needs. You can visit our frequently asked questions to get more information about the treatment options and what to expect during and after the treatment.
You want to find the right clinic for you. But there are thousands of hair clinics in Turkey which one are you going to choose ?
This is of course a difficult and a very important decision to make for patients. We always assist our patients with their needs. Every patient has a different expectation from a hair transplant in Turkey.
This is where Medic Istanbul steps in. We work with multiple clinics to choose from. Do you wish to have a FUE Hair transplant in Turkey ? Or do you need fut method or something else ?
Maybe you don't have enough hair on the back of your head and you want to try it with beard or body hair transplantation.
Look no further. With many options to choose from we will consult you in every step of the way. If you are looking for a good hair transplant in Turkey we can help you choose from many alternatives.
Getting a hair transplant in Turkey is a safe and a very common procedure nowadays but people still need help to avoid possible frustrations in a foreign country. Turkey simply beats its competitors with prices and vast experience in medical tourism especially hair transplantation.
Turkey is the rising star in medical tourism. If you are looking for a natural hair transplant in Turkey, Istanbul has a lot to offer. With thousands of clinics to choose from no other city in the world has this much variety.
Your guide for Hair restoration in Turkey
Why and how:
Turkey has been the leading country for hair transplantations in the world for some time now. The country offers affordable treatments with decent prices. The location of the country makes it an ideal spot for visitors all over the world. Especially Istanbul , crown jewel, of Turkey has the most hair restoration patients in Turkey.
Medical tourism in Turkey has kept expanding thanks to happy patients and superb service. The treatments cost about 70% less compared to North America and Europe. Hair treatments are usually not covered by the insurance so why not get it done in Turkey for only the fraction of the total price offered elsewhere in west ?
So?
Hair restorations usually cost no less than 10.000 – 15.000 USD in the United States and in Europe about 10.000 – 12.000 Euros. Hair clinics in Turkey offer premium packages according to patients wishes and needs. These packages usually include hair transplantation, airport transfers, translator fees, medication, hotel stay and anything the patient might need. Total cost for these packages vary from 1.000 to 3.000 USD
Being the industry leader has also lead to competitive prices. With this many patients and service providers it is possible to get the hair restoration in Turkey done by an experienced team with a fair price.
Golden standard of hair restoration in Turkey is the FUE technique which offers very natural results. This proven method has been around for decades and thanks to existing experience with this methods it offers great results.
FUE is a safe method. It is much less invasive than old ''FUT'' method. The operation is done under local anesthesia and it takes couple of hours.
The information mentioned on the site is not intended as a diagnosis. It is for informational purposes only.
What do you need to know before you travel to Turkey for Hair Restoration?
Are you eligible for a hair transplant ?
First we need some information from you:
*Cause of your hair loss: Is it genetic, did it happen after an accident or medication use ? Has it stopped or still going on ? Please let us know
*We need some photos of your hair from sides, top and neck area. You need to have a healthy donor area (back of your head)
How old are you ? Success is more difficult if you are above 60-65 years of age.
Medical condition
If you have a blood transmitted disease or any other infectious disease (HIV, Hepatitis A,B,C) , high blood tension, heart diseases you are unfortunately not eligible for the treatment.
Treatment steps
Visa application
Citizens of most European countries along with the US citizens do not require a visa for Turkey. If you need a visa, obtaining one is quite easy with Turkish ''E-VİZE'' You can simply apply only and get your visa in couple of days.It is also possible to get your visa upon arrival at the airport. We don't advise that because it can take up to an hour. Getting it done online is much easier and faster.
Flights and approximate flight costs transfer and airport information
We offer free transfers all airports of the city. But if its possible we suggest Sabiha Gökçen Airport its not far from the hospitals we work with.
Flight costs from Europe, Middle East and North Africa vary around 200-400 USD.
How does it work?
After your initial consultation we will make necessary blood tests to look for any infectious diseases afterwards we will start with your hairline design and consultation. The treatment starts right after. First step is applying local anesthesia second step is extracting grafts from donor area and then the team will open canals on desired transplant area. Final step is to apply extracted grafts to the transplant area. The whole treatment takes from 4 to 8 hours depending on patients needs. Final step is explaining the patient what he/she needs to do during recovery period.
The next day patient has to rest at hotel. On the third day we will proceed with hair wash and pro injection for faster healing.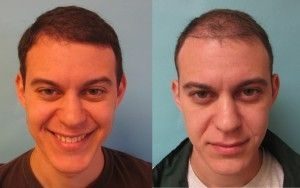 How to prepare in general and how to prepare for the surgery
Please wear a shirt with buttons before and after surgery for a couple of days so your clothing doesn't touch your head, do not drink alcohol before the operation.
What do to right after surgery
Resting is very important for the initial 2 days. Do not smoke don't drink alcohol for 15 days for better results and faster healing, don't bump your head into anything, drink plenty of water. Follow instructions specified for your individual case.
7 Stages of hair loss from none to severe according to Norwood scale for hair loss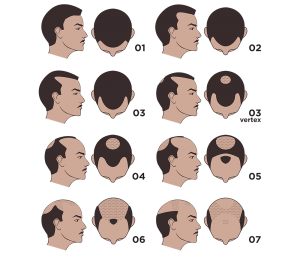 Why should you get a hair restoration in Turkey with us ?
*We offer tailored treatment plans depending on patients needs and wishes
*We have years of experience with medical tourism
*Each patient gets a special representative during their stay in Istanbul. You get 7/24 assistance. Every patient is VIP
*We only work with the best. We know everyone has different expectations. We help you choose what is best for you.
*We plan everything from A to Z so you can focus on enjoying the city.
Our Hair Restoration Package
*3 Nights of hotel stay
*PRP Injection to ensure faster healing
*Post Op Examination
*Hairwash
*Medication
*Shampoo
*Airport and clinic transfers
*Translator fees
*24/7 Assistance
*Hair transplant surgery
*Maximum possible grafts for fixed price
Turkey Hair Transplant Package :How much does it cost?

Contact us for a free non binding online consultation.
You can check out our prices.
We are available 24/7
Not convinced ?
You can find out more about hair transplantation process here Pub Med, Web MD, Wikipedia.
Why not save money and visit Istanbul by getting your hair restoration in Turkey ?
Is it safe to get hair restoration in Turkey ?
Turkish clinics have been helping patients from abroad for a long time. Thousands of people are happy with their results and the money they saved. Istanbul is known as worlds hair transplantation capital. You can research online before deciding to have the treatment and consult professionals like us.
How long does hair transplant last when it  comes to Hair transplantation in Turkey
Your transplanted hair will be just like your natural hair. It will last as long as you follow doctors instructions. There might be some hair loss as you age but this happens if you had a hair transplant or not. And ıf you have any systematic diseases you have to consult with us so we can discuss your case with the doctors. Your hair transplantation in Turkey is no different than any other hair transplant you could get in Europe or the USA for triple the price.
Hair Transplant Turkey Package
Which hair transplant package is the right one for you? We do offer fut,fue,dhi treatments with hotel stay but individual packages are possible. You can contact us for a tailored hair transplant package in Turkey.
What are the side effects of hair transplant ?
Hair transplant is a minimally invasive procedure performed on an outpatient basis. After the operation there might be some swelling and scarring. This all goes away within time. There are no known side effects.
Are hair transplants successful ?
Yes, Hair Transplant methods have changed a lot during the last decade. Nowadays the expected success rate for a hair transplant is about 95% Since istanbul is world's hair transplant capital. Getting your hair restoration in Turkey at the hands of experienced staff is a huge plus.
Is a hair transplant worth it ?
This all depends on what patients wishes and how much impact hair loss on his or her life. A hair transplant usually improves quality of life a lot by helping patients self esteem. It is beginning of a new and a happier life for the patients. Most people tend to get a hair transplant and solve their hair transplant problem once and for all instead of wasting time with anti hair loss products. If these products really worked, hair transplantation would not be where it is today.
Do hair transplants actually work ?
Yes, It is a billion dollar industry which made lots of industries such anti hair loss shampoos, wigs, organic ailments obsolete.
Can transplanted hair fall out ?
Transplanted hair may fall out just like your own hair as you age or if you have any disease that interfere with hair growth. Other than that transplanted hair is not expected to fall out.
How painful is hair transplant ?
Only in the beginning as the doctor applies local anesthesia you might experience mild pain. Afterwards the procedure is painless. Slight discomfort is normal.
Are you awake during a hair transplant ?
Yes. Hair transplanted are carried out under local anesthesia on an outpatient basis.
Is a hair transplant dangerous ? Are hair transplants safe ?
No, Its not a major surgery. It is a safe procedure as long as the basic rules of any type of surgery are followed. (hygiene, quality material, experienced staff etc.)
Can you get a hair transplant if you are completely bald ?
Beard or Body hair can be used for hair transplant. However the success rate for these opertions are not as high as hair transplants and the prices are about 20% higher.
How long does it take for hair to grow after hair transplant ?
Inıtıal result can be seen after 6 months. 12 months of waiting time is to be expected for the final result.
How can I speed hair growth after hair transplant ?
Healthy living, not smoking, drinking and following your doctors instructions speed up healing process. Do not use any additional products or do something else than what your doctor has said.
Which hair transplant is the best ?
Fue Hair transplants are the golden standard nowadays. FUT method is considered obsolete and it is only used for patients who are not fit for fue method.
Is hair restoration covered by insurance ?
No. unless stated otherwise in your insurance policy. Hair transplants are considered as an aesthetic procedure. Since Hair Restoration in Turkey only costs friction of the price compared to Europe and North America it is still very affordable even without insurance coverage.
[sc_fs_multi_faq headline-0="h2″ question-0="How much does hair transplant cost in Turkey?" answer-0="Prices mostly vary depending on experience of the doctor and clinic staff. But the prices for most hair restoration surgeries in Turkey / Istanbul are very economical compared to prices in Europe or the States due to low labor costs. " image-0="" headline-1="h2″ question-1="Which country is best for hair transplant?" answer-1="Turkey has the most hair transplant surgeons and personnel in the world. Istanbul is considered worlds hair transplant capital by many leading experts. Every year Good quality of work and prices attract more patients. The country already has decades of experience with medical tourism while others are merely starting." image-1="" headline-2="h2″ question-2="Do hair transplants last forever?" answer-2="Hair transplants are way more effective than any anti hair loss products. If you don't have a pre existing condition affecting the transplant your newly transplanted hair will be just like your natural hair. Like your natural hair they will thin as you age. (starting from around 65-70 years of age) other than this they are considered permanent." image-2="" headline-3="h2″ question-3="Which age is best for hair transplant?" answer-3="This vastly depends on the individual. If you have ongoing hair loss it is usually not recommended to have hair transplant. Usual age for such operation is around 26. If you don't have any systemic diseases or anything else preventing you from getting the operation done. You can get a hair restoration surgery at anytime." image-3="" count="4″ html="true" css_class=""]
So you decided to have your Hair Restoration in Turkey Where to start ?
First step is contacting us with photos of your head from top,sides and back for a quote. Afterwards we will ask you questions about your expectations, medical history, walk you through the whole process and organise everything for you. Enjoy your treatment in Istanbul! The Hair transplantation capital of the world!
Our patients from Germany can check out our site in German for more information in their language.
Hair Transplant in Turkey are easy with Medic istanbul!
How does Hair Restoration in Turkey with us work?