What is the All on 4 system?
The All on 4 System is the most economical and easiest method of dentures. With this alternative, only 4 implants are placed in the jaw and an artificial prosthesis is placed on them. It is only possible to complete the entire treatment with 8 implants. This system is particularly preferred for patients who no longer have any healthy tooth or have no tooth at all. The All on 4 system is known and used worldwide. Same system sometimes can be made with more Implants. Why should you get all on 4 treatment in Turkey?
Benefits of All on 4 in Turkey
* Way less expensive than most of the extensive treatments with more implants and crowns.
* It is less invasive as the treatment is done in only a few steps.
* You can usually insert the implants in a way that bone augmentation and sinus lifting is not necessary.
* You get new teeth right away. After the implantation is finished, you will receive a temporary prosthesis that you can use until the end of the treatment.
Possible Disadvantages
* With an All on 4 treatment, fixed crowns and dental bridges are not possible. A non-removable artificial prosthesis is used. The visible gums are then also artificial. For some patients this is unfortunately unusual and unimaginable.
* Since the whole system is based on only 8 implants, if one implant fails, the treatment may have to be renewed for the entire jaw. In some cases a renewal can also be problematic and not possible. But this is very seldom the case.
* Your time in istanbul at the second phase (production of prosthesis) takes a few days longer than production of normal fixed prostheses.
What kind of teeth will I have?
You get ceramic teeth on an artificial non-removable denture in the end. Plastic prostheses are screwed onto the 4 implants for both jaws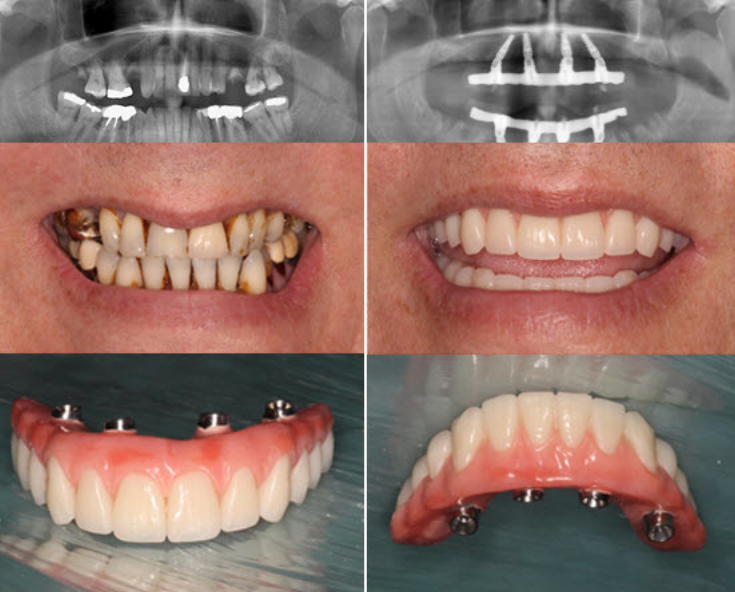 All on 4 in Turkey: How long will the treatment take?
The all on 4 method takes two trips to the dentist. For the first phase you have to stay in istanbul for 6 days. After at least 3 months you come for the second time and this time you have to stay for 10 days. The implants are applied during the first phase. You will also get a temporary prosthesis until the treatment is finished; and in the second phase the prosthesis will be made. You will also have free time during your stay.
How much money will I save with an All on 4 treatment'?
Compared to Europe you save up to 60-70% of the treatment costs and with an all on 4 treatment you save about 50% of the treatment costs compared to a treatment with fixed crowns, dental bridges. The treatment is both cheap and high quality.
Is it possible to get teeth in one day with All in 4 in Turkey?
Yes, after the first phase (implantation) you will receive a removable, removable prosthesis. It is best not to put too much pressure on implants at this stage of treatment.
We hope our article answered your questions about getting all on 4 in Turkey. You are welcome to contact us for a non-binding, free treatment proposal. We need an up-to-date panaromic x-ray from you. You can also find out more about the implant system here.