Causes, Treatment, and Prevention of Buck Teeth
Buck teeth are a dental disorder in which the top front teeth protrude abnormally over the lower front teeth. This is a very common problem that affects people of all ages. Buck teeth can be painful, impair speech, and lower self-esteem. This article will look at the causes of buck teeth, the treatments available, and how to avoid it all together. There are all kinds of solutions for different types of buck teeth.
Buck Teeth Causes
Buck teeth can be caused by a number of reasons such as genetics, thumbsucking, tongue pushing, and mouth breathing, wrong usage of pacifiers, missing teeth or any impacting teeth. Buck tooth development is unfortunately heavily influenced by genetics. Children are more likely to develop malocclusion if one or both parents have it.
Buck teeth can also be caused by thumbsucking, tongue pushing, and mouth breathing. Thumb-sucking and tongue pushing cause the front teeth to protrude. Mouth breathing can induce unnatural development of the upper jaw, resulting in malocclusion.
Additional causes of for this problem include inadequate nutrition, gum diseases, and jaw tumors or cysts. Malocclusion can also be caused by acute injury or poor tooth care in some rare situations.
Buck Teeth Treatment Options
The therapy for an overbite is determined by the severity of the issue and the age of the patient. Early therapy in youngsters can prevent the development of more severe malocclusion which is the easiest way to treat the problem.
The following are the most popular treatments for buck teeth:
Braces: The most frequent therapy for buck teeth is braces. They are used to straighten teeth and adjust the jaw position. Braces function by putting pressure to the teeth and gradually shifting them into the proper position. Treatment duration varies according on the severity of the malocclusion and might range from several months to many years. This is especially effective with younger patients.
Retainers: Retainers are frequently used after braces to keep the teeth in the corrected position. They are tailored to fit the patient's mouth and are worn for a set amount of time every day. Retainers are also used after completation of braces treatment.
Surgery: In extreme cases of malocclusion, surgery may be required to rectify the jaw position. To obtain the optimum outcomes, this is frequently done in conjunction with orthodontic therapy.
Invisalign: An alternative to conventional braces, Invisalign utilizes transparent plastic aligners to progressively straighten teeth. Those who do not wish to wear traditional metal braces choose this therapy option. However not everyone might be suitable for an invisailgn treatment.
In some cases a combination of the above mentioned treatments might be necessary.
Can I fix my teeth with veneers, crowns or bonding?
Although veneers, crowns, and bonding can improve the look of buck teeth, they may not be sufficient to treat the underlying orthodontic issue. However if the patient doesnt want to undergo months of treatment and in case of surgery healing period most cases can be corrected to a certain level with crowns or veneers. This is not the ideal treatment method but many adult patients dislike having to wear braces for an extended period of time. Recovery after the jaw surgery can also be quite consuming. And finally crowns are more affordable for most patients.
Veneers are thin, custom-made shells that cover the front of teeth to improve their look. They can be used to adjust tooth form, size, and color, as well as to fill gaps between teeth. Veneers might be a useful solution for mild cases of protruding teeth as long as teeth are not extremely missaligned.
Crowns are teeth-shaped crowns that cover the whole tooth, improving its look and function. Crowns are commonly used to repair broken or diseased teeth, but they can also be used to improve physical appearance.
Crowns, on the other hand, are a more intrusive choice than veneers since they require more of the original tooth to be removed.
Bonding is the application of a tooth-colored resin substance to the tooth, which is subsequently shaped and polished to improve its look. Bonding can be used to repair chipped, broken, or discolored teeth, as well as to cover gaps between teeth. Bonding, like veneers, can be a good solution for slight cases of buck teeth.
It should be noted, however, that veneers, crowns, and bonding are quick solutions which doesn't go to root of the problem. They can only be used for moderate buck teeth. Each case is different. You can contact us us with some photos of your smile for an initial assessment of your buck teeth.
Some examples of overbite correction with veneers and crowns.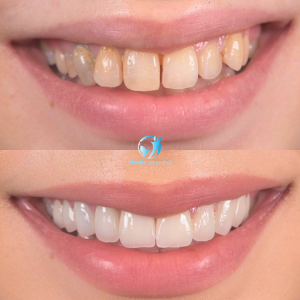 Reduction of overbite
Good dental hygiene is the first step in preventing buck teeth. Brushing, flossing, and dental checkups on a regular basis can help to avoid gum disease and tooth decay, which can lead to malocclusion. It is also possible to avoid the development of overbite by encouraging youngsters to quit thumbsucking or tongue pushing. Prevention is easier than treating the problem as always.
It's also critical to be aware of the variables that might lead to malocclusion, such as mouth breathing and inadequate nutrition. Following a nutritious diet and getting treatment for allergies or other respiratory problems can aid in the prevention of malocclusion also known as buck teeth.
In addition to the treatments and preventative strategies described above, there are some alternative options for dealing with an overbite. If a patient has a propensity of breathing through their mouth, they may benefit from working with a speech or breathing therapist to learn how to breathe through their nose.
Since the teeth and jaw are still developing, orthodontic treatment for buck teeth usually begins in childhood or adolescence. Adults, on the other hand, can benefit from therapy, and there are several solutions available that are less visible than traditional braces. In fact, because the aligners are almost undetectable and can be removed for eating and cleaning, many people prefer Invisalign.
Orthognathic surgery may be required in some situations to address severe malocclusion. The jaws are repositioned during this operation, which may be supplemented with additional treatments such as braces or Invisalign. While surgery is usually used as a last resort, it can be a very successful approach to treat protruding teeth in some circumstances.
While buck teeth might be an aesthetic issue, they can also create practical concerns such as trouble biting and eating or speaking impairments. As a result, it is critical to correct malocclusion as soon as possible in order to avoid these difficulties.
Why should you get your buck teeth treated?
Having your buck teeth corrected is crucial for a variety of reasons.
To begin with, protruding teeth can create functional issues such as difficulties biting and eating, communication impairments, and, in some cases, breathing problems. This can have an influence on your quality of life and make daily tasks more difficult. Orthodontic therapy can assist to enhance your overall dental health by correcting these functional concerns.
Second, buck teeth can have aesthetic consequences. Those who have buck teeth may be self-conscious about their looks and may be afraid to smile or talk in public. This might be detrimental to their self-esteem and confidence. Patients can improve the look of their teeth and raise their self-confidence by having their buck teeth fixed.
Ultimately, untreated buck teeth can lead to additional oral health issues such as tooth decay and gum disease. Misaligned teeth can make cleaning between teeth difficult, resulting in plaque accumulation and tooth damage. This can lead to more significant oral health concerns and possibly tooth loss over time.
Frequently Asked Buck Tooth Questions
How long does it take to cure buck teeth?
The length of treatment for buck teeth is determined by the degree of the malocclusion and the procedure employed. Therapy might range from a week to few months or to many years.
Can buck teeth be avoided?
Good dental hygiene is the first step in preventing buck teeth. Brushing, flossing, and dental checkups on a regular basis can help to avoid gum disease and tooth decay, which can lead to malocclusion. It is also possible to avoid the development of buck teeth by encouraging youngsters to quit thumbsucking or tongue pushing.
Are there any other names for buck teeth?
Buck teeth are also called an overbite, protruding teeth
Can I fix my protruding teeth at home?
Thats not possible you need to see a specialist. Any home remedies might worsen the situtation and require further treatment by a specialist.
Does NHS or my insurance cover my overbite treatment?
NHS currenty doesnt cover such treatments for adults. For children there is coverage but the waiting list is long and the dentist needs to deem the patient eligible for the treatment. A private insurance with dental coverage is also usually not very economical due to high premiums patient has to pay and high participation fees for the planned treatment. Hence why year after year more people decide to get their dental treatment done in Turkey.
Do you have questions about your overbite and how to get it treated in Turkey? You can contact us anytime for free online consultation. You can check out or articles about hollywood smile and dental veneers or dental crowns find out more about possible treatment options. There are also useful articles about the condition on Wikipedia and NHS.